Wild Monte Prena
Route:
Strada Regionale 17b (CAI path 250) - Vado di Ferruccio - Monte Prena - Vado di Ferruccio - Strada Regionale 17b (CAI path 250)
Grade:
EX
Time:
4 - 6 hours (excluding breaks)
Total ascent / descent:
1,023 m /
1,023 m
Distance:
14.00 km
Highest point:
Monte Prena, 2,561 m
Lowest point:
SS 17b, 1,577 m
Waymarks:
The walk is waymarked with red-and-yellow and red-and-white marks on rocks and/or the ground, except for one section where you need to use your own navigation skills.
Paper maps:
Access:
The walk starts from the point where the CAI path 250 meets the Strada Regionale 17b (42°24'17.0"N 13°42'44.9"E). The only way to get here is by driving. Exit the A24 Autostrada at Assergi and follow the directions to Fonte Cerreto and Campo Imperatore (right and right again from the Autostrada junction), then stay on this road for 26.5 kms. Turn left into a dirt track and park near an information board of the National Park (Parco Nazionale).
General description
This walk takes you to one of the wildest and most remote peaks of the Gran Sasso massif. And, just to make it even more interesting, a section of the route is not waymarked and you will require navigation skills and intuition to find your way! It's nothing too scary, actually, and you'll have fun. Monte Prena is very very rugged, and the landscape is dotted with some turly bizarre rock formations. The final push to the summit is steep but you will be rewarded by majestic views when you reach the summit. Thanks to its remoteness, Monte Prena is also one of the few areas where you can see rare Stella Alpina (edelweiss) flowers and, if you're lucky, a chamois will come and say hi at one point, too.
Detailed description
Stage 1: from Strada Regionale 17b to Vado di Ferruccio (1 and ½ hours - 2 and ¼ hours)
From the start of the walk, follow the bed of a (usually!) dry river for about 20-30 minutes. You'll be walking northwards and on nearly-flat terrain, having Monte Prena (left) and Monte Camicia (right) in front of you (fig. 1).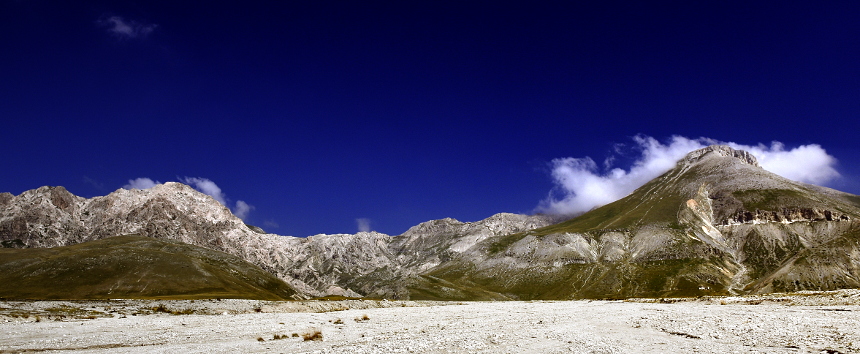 Fig. 1: Monte Prena (left) and Monte Camicia (right) from the dry river bed
When the river bed becomes narrower, climb out of it (there's a small path) to the right and join a large track coming from south-east. Follow the track for a few metres in the direction of the mountain, and then abandon it to turn left again towards the river bed, without actually getting back down to it. You will see a small path running alongside and above the river bank. Follow this path. The path makes its way up more or less following the same river bank but eventually leaves it, to continue in an upward direction. Shortly afterwards the path becomes less and less visible, so you need to look carefully ahead of you and mentally plot your route. This is less difficult than it sounds, as your intermediate destination - the ridge between Monte Camicia and Monte Prena - is always well visible in front of you (fig. 2).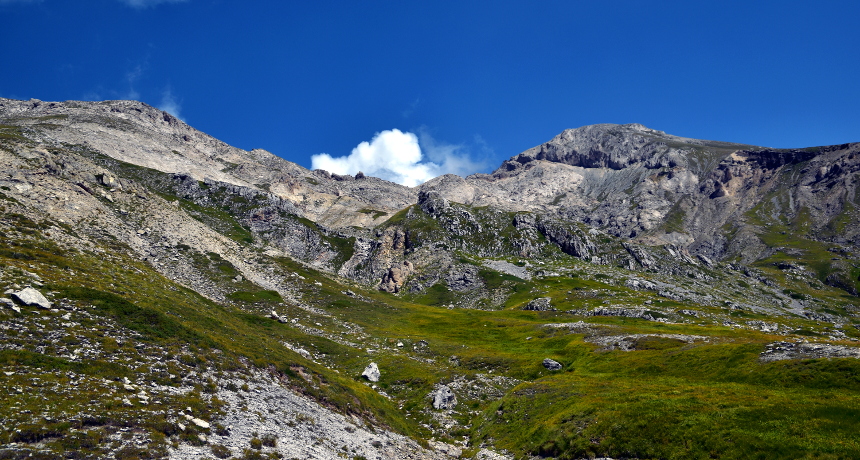 Vado di Ferruccio
Fig. 2: Finding your way to Vado Ferruccio
Essentially, the trick is to try and proceed towards it in a roughly zig-zag manner. If, at any point, you find yourself stuck, re-trace your steps and try a slightly different route. Again, don't be too put off by this: you won't feel really lost, as you will always know where you are - it's just a matter of picking a route that is comfortable enough for you. Some of this will be a bit steep, but nothing extreme. Carry on like this for about half an hour or so and you will eventually join the main CAI path (which you will use on your way back), coming from south-east (fig. 3).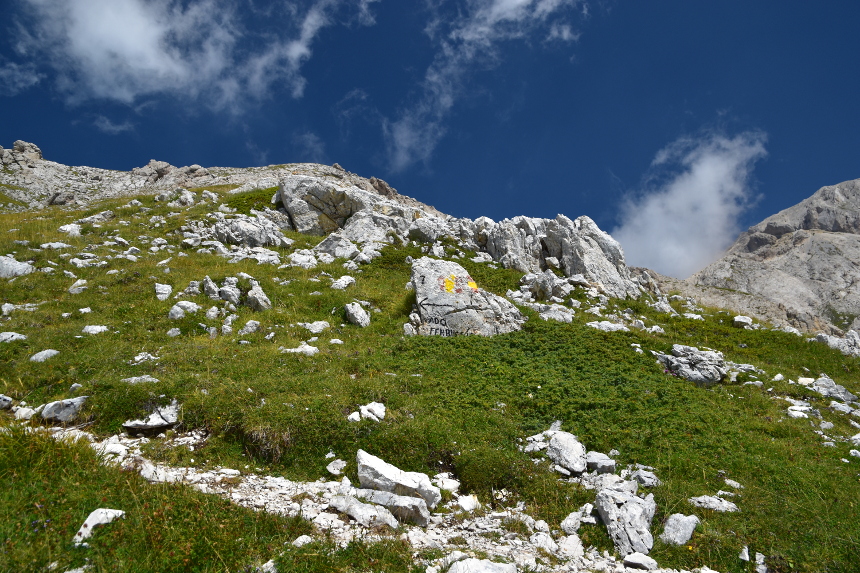 Fig. 3: Finally, the CAI path!
Now follow the main path, for another 10-15 minutes to reach Vado di Ferruccio (2,233 m), a beautiful col between Monte Camicia and Monte Prena (you'll be much closer to the former at this point). You'll get magnificent views from the ridge over the Teramo Province (fig. 4) all the way to the Adriatic Sea (on a clear day!) Plus, a chamois might come along and say hi (fig. 5).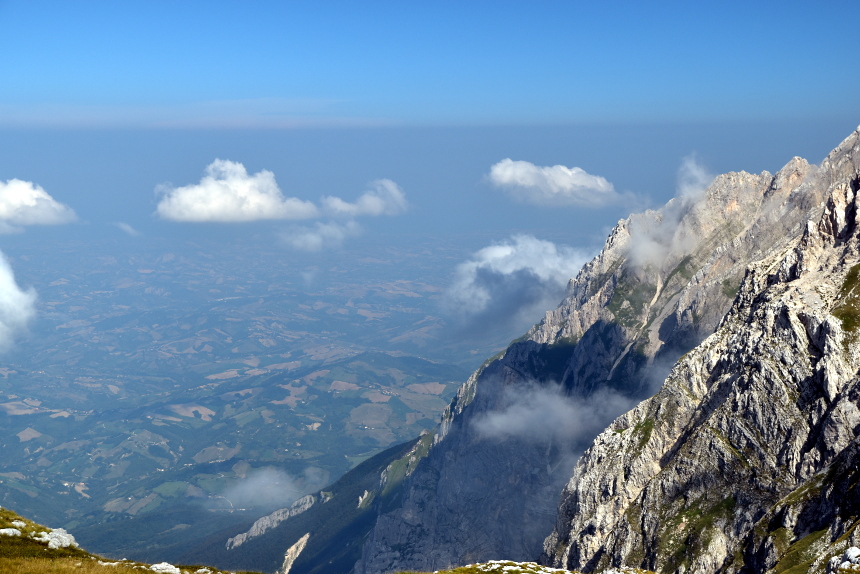 Fig. 4: The view over the Teramo Province from the ridge.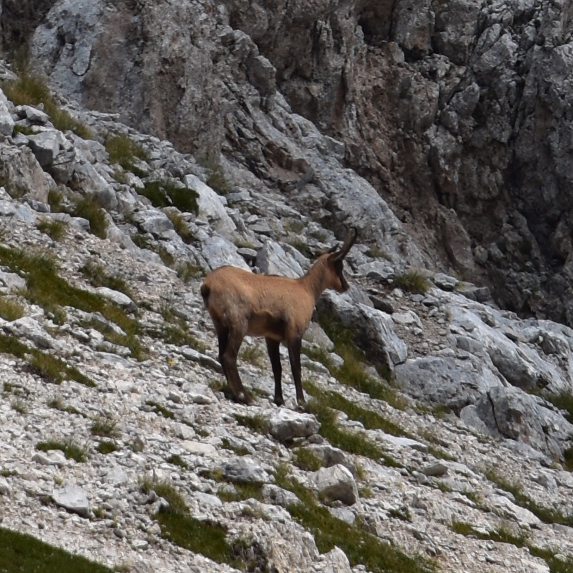 Fig. 5: A chamois on Vado Ferruccio
Stage 2: from Vado di Ferruccio to the summit of Monte Prena (1 - 1 and ½ hours)
From Vado di Ferruccio, walk along the ridge towards Monte Prena (leaving Monte Camicia behind your back). You won't be climbing for a bout 20 minutes or so, and you can continue to enjoy the views on either side (the plateau of Campo Imperatore to your left and the hills of Teramo Province to your right). You can also spot a rare Stella Alpina (edelweiss) (fig. 6). The semi-flat terrain won't last too long, though, and the path starts climbing again as you get closer to Monte Prena, going round to the right a smaller peak before the final push to the summit (fig. 7).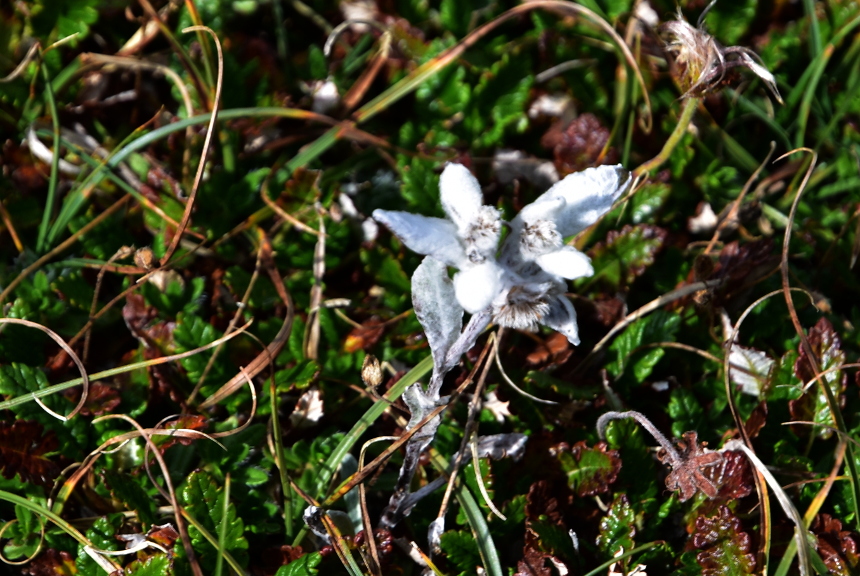 Fig. 6: Stella Alpina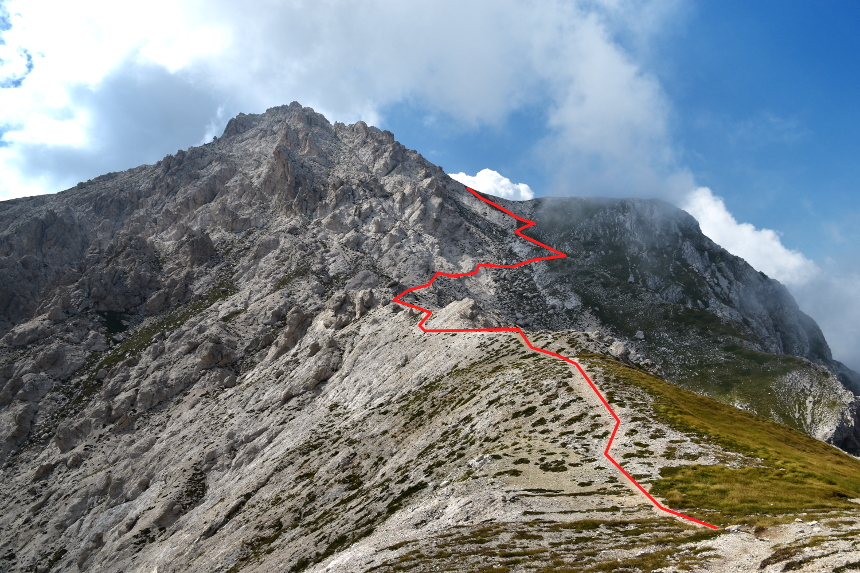 Fig. 7: The path climbs again towards Monte Prena
After you've gone beyond the smaller peak, the path steepens considerably and you're now in a wild kingdom of rock and scree. You're not quite scrambling, but you'll need the help of your hands at various points. Keep a constant eye on the red-and-white marks on the rocks - every time you reach one, look for the next one before proceeding (fig. 8).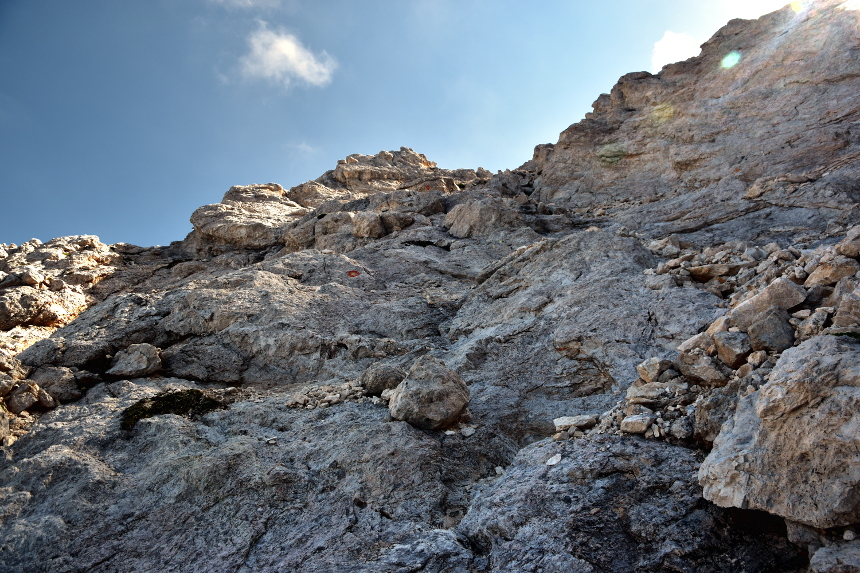 Fig. 8: This photo was taken from where a waymark was -- two more are visible higher up
The landscape of Monte Prena is very rugged and rock formations are often interestingly unusual (fig. 9). Finally you'll get to the summit ridge, and the cross indicating the highest point will be on your right. The ridge is rather narrow here, so watch where you put your feet! Great views 360-degree will reward all your efforts (fig. 10).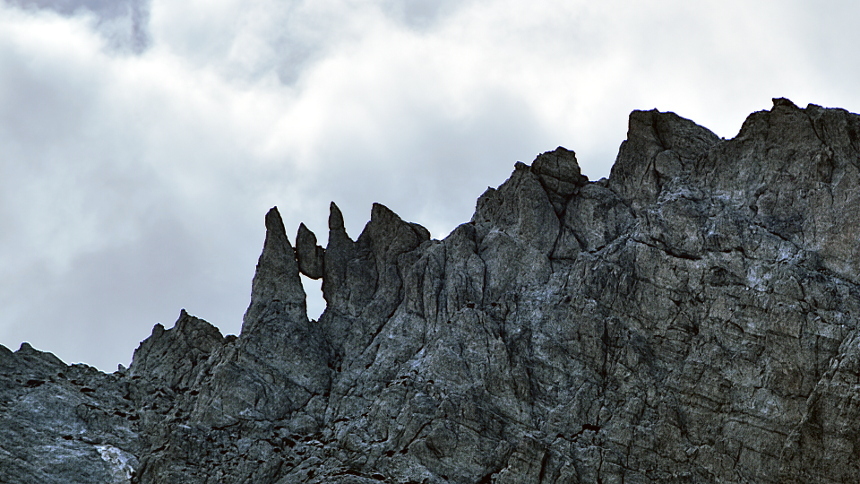 Fig. 9: Who put that rock there?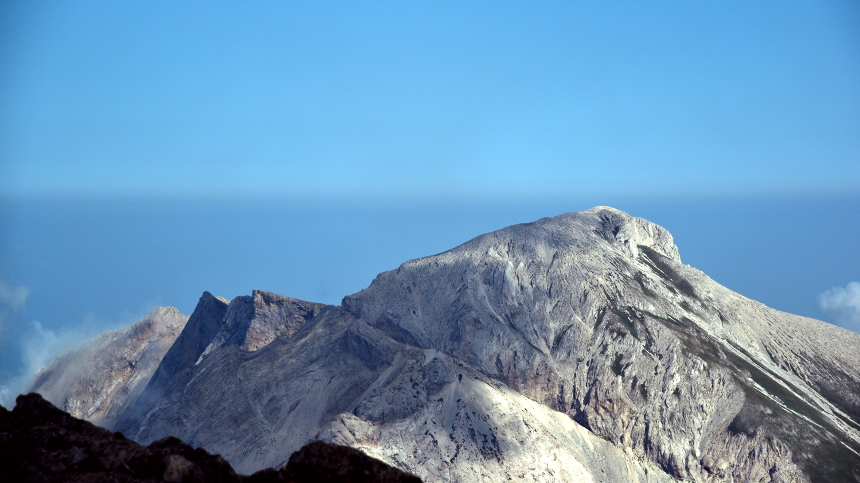 Fig. 10: Monte Prena's tamer sister: Monte Camicia
Stage 3: from the summit back to the car (1 and ½ hours - 2 and ¼ hours)
The best way to get back to the car is to follow the CAI path all the way to the bottom. This means retracing your steps to Vado di Ferruccio and, from there, staying on the path downwards. The distance will be longer than on the way up, but it will be much more comfortable and it will also add variety to your walk.